Follow @THEMADHATTERXXX
King Juan Carlos of Spain went elephant hunting. Beyond the extravagance, it just goes to show the blood lust of the Aristocracy and how irresponsible it is for a national leader to kill animals that are in serious danger.
When European leaders, like King Juan Carlos, don't take the plight of elephants seriously, it sets a standard that the lives of these majestic and threatened creatures don't matter. It fuels the notion that elephants dying is not important.
That couldn't be more wrong. With demand for black market ivory rising, hundreds of elephants are being poached, putting these already suffering animals in serious danger.
While ordinary Spaniards cope with harsh austerity, recession and soaring unemployment, the country's royal family has been enjoying expensive hunting trips, one of which resulted in King Juan Carlos ending up in hospital.
The 74-year-old monarch's fall in a park in Botswana provided an excuse for Spanish newspapers, who normally treat their royal family with kid gloves, to plaster their pages with photos of the king standing proudly in front of a dead elephant.
The photograph came from the website of Botswana-based Rann Safaris, which had been taken down by Sunday. The pictures, taken before the latest hunting trip, also showed the king with two dead African buffaloes.
Shoots with Rann Safaris cost upwards of $8,700 (£5,500) a week, with an elephant costing a further $15,000 to kill. A day out with professional hunter Jeff Rann, pictured with the king, costs a further $2,000.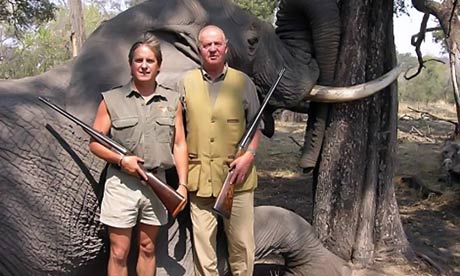 Spain's King Juan Carlos poses in front of a dead elephant on a hunting trip in Botswana, Africa.


REPORT

http://www.guardian.co.uk/world/2012/apr/15/spain-king-juan-carlos-hunting