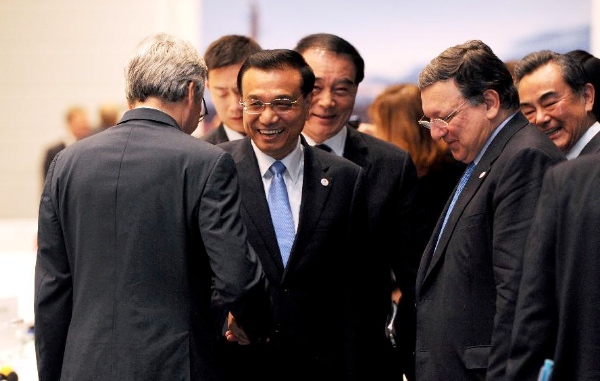 .
THE DRAGON "VORTEX" LINES … UNITED FRONT
.
Li urges EU to join
China-led Silk route project
.
Premier Li Keqiang urged European participation in the "one belt, one road" — "Silk Road Economic Belt" and the "Maritime Silk Road" during a speech at the leaders' round table talks at the ASEM summit in Milan on Friday. The Silk Road connected China and Europe from around 100 B.C.
.
The 10th Asia-Europe Meeting (ASEM) concluded on Friday, with EU and Asian leaders pledging to promote economic cooperation through enhanced Asia-Europe connectivity.
.
The 4,000-mile Silk road linked ancient Chinese, Indian, Babylonian, Arabic, Greek and Roman civilizations.
.
A new map unveiled by Xinhua shows the Chinese plans for the Silk Road run through Central China to the northern Xinjiang from where it travels through Central Asia entering Kazakhstan and onto Iraq, Iran, Syria and then Istanbul in Turkey from where it runs across Europe cutting across Germany, Netherlands and Italy.
.
The maritime Silk Road begins in China's Fujian and ends at Venice, Italy.
.
VENICE aka VENUS
.
READ MORE HERE
http://thebricspost.com/li-urges-eu-to-join-china-led-silk-route-project/#.VEKegckRZk6
.
.