The Knights Of Malta are permanently at war.
CIA. Drugs. The Vatican. All are connected.
The Masons vs. Knights of Malta
More from Robert Anton Wilson.
"The secrets of Masonry are not that hard to find out...."
The Knights of Malta are very well represented in US intelligence agencies.
For the last seven hundred years these two forces have been engaged in non-stop warfare.
The Knights of Malta are allies of the Vatican and the Mafia.
It's a complicated world, isn't it?
KNIGHTS OF MALTA
The fourth oldest religious order in the Roman Catholic Church
Conferees include prominent statesmen,
such as Ronald Reagan (who received it while still in office)
and George H.W. Bush
Jimmy Savile was a Papal Knight and a Knight of Malta
MORE ON JIMMY SAVILE
AND HIS CHUMS HERE
SILENCE IS GOLDEN ... WITHIN THE RANKS
http://theflowofperceptions.blogspot.co.uk/search/label/JIMMY%20SAVILE
JIMMY SAVILE : CHILD PRECUROR
FOR THE RICH AND WEALTHY
.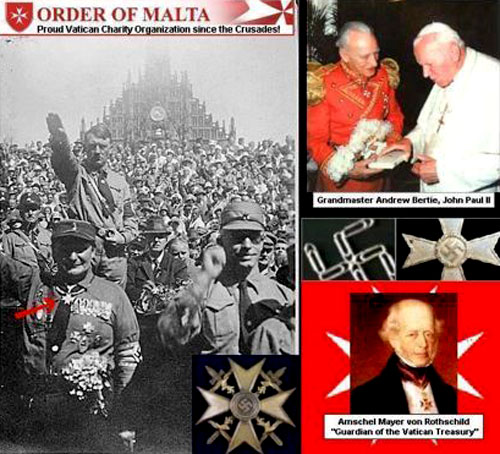 .
The Order of Merit pro Merito Melitensi of the Sovereign Military Order of Malta is a knightly order of merit established in 1920. It is awarded to men and women who have brought honour and prestige to the Sovereign Military Order of Malta or actively promoted Christian values or works of charity in the Christian tradition as defined by the Roman Catholic Church.
The CIA/Mafia/Vatican Alliance
.
.
MORE HERE
Mafia works hand in hand with the Vatican
to assassinate steal and deal - Mafia Boss interview

The Jesuit Vatican New World Order

FULL VIDEO