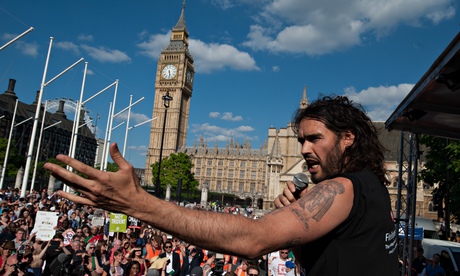 An estimated 50,000 people in London addressed by speakers, including Russell Brand, after People's Assembly march
Russell Brand told the marchers there will be a 'peaceful, effortless, joyful revolution' against austerity in the UK. Photograph: Rex Features
Tens of thousands of people marched through central
London
on Saturday afternoon in protest at
austerity
measures introduced by the coalition government. The demonstrators gathered before the Houses of Parliament, where they were addressed by speakers, including comedians
Russell Brand
and Mark Steel.
An estimated 50,000 people marched from the BBC's New Broadcasting House in central London to Westminster.
"The people of this building [the House of Commons] generally speaking do not represent us, they represent their friends in big business. It's time for us to take back our power," said Brand.
"This will be a peaceful, effortless, joyful revolution and I'm very grateful to be involved in the People's Assembly."
"Power isn't there, it is here, within us," he added. "The revolution that's required isn't a revolution of radical ideas, but the implementation of ideas we already have."
A spokesman for the People's Assembly, which organised the march, said the turnout was "testament to the level of anger there is at the moment".
He said that Saturday's action was "just the start", with a second march planned for October in conjunction with the Trades Union Congress, as well as strike action expected next month.
People's Assembly spokesman Clare Solomon said: "It is essential for the welfare of millions of people that we stop austerity and halt this coalition government dead in its tracks before it does lasting damage to people's lives and our public services."
Sam Fairburn, the group's national secretary, added: "Cuts are killing people and destroying cherished public services which have served generations."
Activists from the Stop The War Coalition and CND also joined the demonstration.
The crowds heard speeches at Parliament Square from People's Assembly supporters, including Caroline Lucas MP and journalist Owen Jones. Addressing the marchers, Jones said: "Who is really responsible for the mess this country is in? Is it the Polish fruit pickers or the Nigerian nurses? Or is it the bankers who plunged it into economic disaster – or the tax avoiders? It is selective anger."
He added: "The
Conservatives
are using the crisis to push policies they have always supported. For example, the sell-off of the
NHS
. They have built a country in which most people who are in poverty are also in work."
The People's Assembly was set up with an open letter to the Guardian in February 2013. Signatories to letter included Tony Benn, who died in March this year, journalist John Pilger and filmmaker
Ken Loach
.
In the letter, they wrote: "This is a call to all those millions of people in Britain who face an impoverished and uncertain year as their wages, jobs, conditions and welfare provision come under renewed attack by the government.
"The assembly will provide a national forum for anti-austerity views which, while increasingly popular, are barely represented in parliament."
The Metropolitan police refused to provide an estimate. A police spokesman said the force had received no reports of arrests.
A spokesman for the prime minister declined to comment.