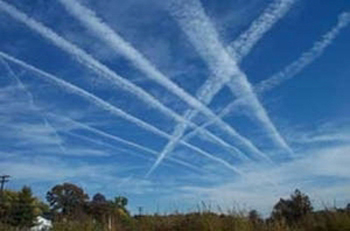 How our sky has changed...!
Some planes now leave trails that can persist and expand into artificial clouds & our climate is being affected. There is also a long term secret climate modification program employed internationally and on the back of this clandestine intergovernmental program the AGENDA 21- Sustainable Development is waiting to drastically change the way we all live.
This program is not to save the planet but actually to control it, a system that is like communism on steroids. Still with an oligarchy and elite at the top and using science to dominate life on this planet. DO YOU CONSENT, acquiesce to the dominance of the so called elite...?
Do you believe the LIES from a corrupt establishment that has manipulated us for generations...? As we enter this age of unprecedented communication and access to information, people everywhere are waking up... There are many alternatives to the system if governance ...
We are growing up and can make decisions for ourselves without a ruling oligarchy.... TIME FOR FREEDOM as currently tyranny beckons, be the change you want to see ...
PEACE 4 ALL
The REAL Institute - Max Bliss
The blocking of the sun is the blocking of our higher spirit, our vitality... our joy. its a subtle change robbing us of our true potential to be happy and aware... its not climate change for weather... its climate change for our spirit. we need boots on the ground, organized to go to the airports and stop this insanity.
Richard Brandson used a picture taken from the film Railway children as an advert and actually air brushed chemtrails on the picture!
VIEW MORE Subliminal Chemtrails HERE ADDED TO CHILDREN'S TV
http://www.checktheevidence.co.uk/cms/index.php?option=com_content&task=view&id=52&Itemid=50
Subliminal Trails in 2010 London Marathon Poster